Specialty Procedure Kits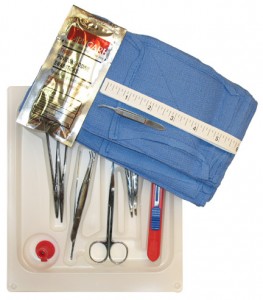 The GuardianCatheter™ specialty procedure Kits are assembled in sequence of use,
allowing the clinician to progress efficiently through procedures. These kits also allow
for streamlining components, reducing waste, and offering cost-effective supply solutions.
Kits are a valuable tool in standardizing protocols for quality patient care; when the items
necessary for a procedure are supplied in a single kit, facility protocols and continuum
of care are easier to be established and maintained.
These kits are comprehensive enough to be used




as a minor surgical tray, chest tube insertion,




IV cut-down, and compact enough for the




transport team.
GuardianCatheter™ Specialty Procedure Kits
| Part Number | Description | Quantity |
| --- | --- | --- |
| CTK-400 | Chest Tube Insertion Tray | 5 per box |
| ETT-NW | Exchange Transfusion Tray - Neonatal | 1 ea. |
| NCT-100 | Umbilical Catheterization Kit | 4 per box |
*Latex Free, Non-DEHP 

 

Customized Procedure Kit Form
Download Here
Print & fax order to 502-425-6543
or email to cs@marianmedicalonline.com