ENFit Enteral Syringes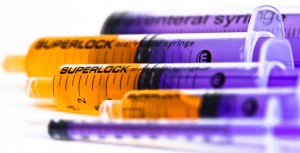 The Medicina ENFit ISO Standard range of enteral syringes has been developed to safely deliver enteral feeds, medicines and flushes to the neonatal, pediatric and adult patients. This system provides a hospital wide solution for safer enteral access because all the components are compatible with all other enteral feeding systems used within the hospital. A compatible Home Health Care reusable feeding system is also available ensuring a smooth transition from hospital to home.
The International Standards Organization, ISO CD 80369-3 for enteral feeding equipment has chosen a locking system with female ended syringes such as the Medicina ENFit safety system.  The committee found the female hubs of oral dose type feeding tubes unsafe and rejected them because they allow IV access when using a Luer slip IV syringe and other tapered tip adapters used throughout the medical community.
Syringe Tip Comparison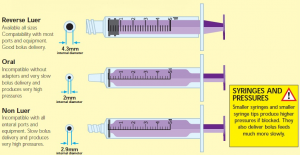 Reverse Luer type syringes provide the widest internal tip diameter (4.3mm),




which gives a better flow for the delivery  of gravity or bolus feeds.
Oral syringes (2mm) and Non-Luer syringes (2.9mm) can only deliver gravity feeds very slowly because the feed has to pass through a very narrow syringe port.
Reverse Luer type syringes also produce lower delivery pressures for medications.
Oral syringes produce twice the pressure and Non-Luer type syringes about 50%

higher pressures than Luer type syringes.
ENFit Enteral Syringes Disposable
| Part Number | Description | Quantity |
| --- | --- | --- |
| LPE01LD | ENFit Low Dose Enteral Syringe - 1 ml | 100 per box |
| LPE25LD | ENFit Low Dose Enteral Syringe - 2.5 ml | 100 per box |
| LPE05 | ENFit Enteral Syringe - 5 ml | 100 per box |
| LPE10 | ENFit Enteral Syringe - 10 ml | 100 per box |
| LPE20 | ENFit Enteral Syringe - 20 ml | 80 per box |
| LPE30 | ENFit Enteral Syringe - 30 ml | 80 per box |
| LPE60 | ENFit Enteral Syringe - 60 ml | 60 per box |
| LPE100 | ENFit Enteral Syringe - 100 ml | 30 per box |
*Latex Free, Non-DEHP