Silo Bags


Medicina Silo Bags are pre-formed silicone bags indicated for use in infants with gastroschisis.  Silos are indicated for the protection of the exposed bowel in infants suitable for a bedside staged closure or as temporary protection before a traditional theatre closure.  Medicina Silo Bags are tapered, allowing for the stomach contents to be aspirated and for some of the bowel edema and congestion to be overcome.

Dislocations have been reported in some of the Silo Bags that are currently on the market, therefore, skin tabs have been added to be secured to the skin with the silicone dressing provided.  Suturing to the skin should not be necessary.  This dressing also acts as a seal to reduce serious leakage from the peritoneal cavity.
Studies show reductions in the neonatal ITU stay and emphasize the cost benefit compared to operating theatre time.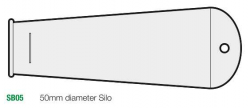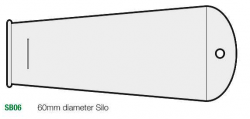 | Part Number | Description | Quantity |
| --- | --- | --- |
| SB03 | Silo Bag, 30mm Diameter | 1 ea. |
| SB35 | Silo Bag, 35mm Diameter | 1 ea. |
| SB04 | Silo Bag, 40mm Diameter | 1 ea. |
| SB45 | Silo Bag, 45mm Diameter | 1 ea. |
| SB05 | Silo Bag, 50mm Diameter | 1 ea. |
| SB06 | Silo Bag, 60mm Diameter | 1 ea. |